May is a month full of birthday's so get ready to celebrate all month long. Not only is it my birthday and my daughter's birthday but Adrriana's Cafe and Stuff To Scrap are having birthday celebrations as well!!
Happy Birthday to Adriana's Cafe!
This is Adriana's Cafe second anniversary and we want you to celebrate with us.
We have tons of fun things for your this entire month, so don't forget to visit our blogs and Facebook Fan Page.
Every SUNDAY we're gonna give you a collection of Brag Book Pages featuring one of her kits, those pages will be available for one week.
On MONDAY we're gonna have a Challenge that you have a week to complete. The CT girls will choose a winner and the lucky one will receive a $3.00 coupon for my store.
TUESDAY is the famous $2.00 Tuesdays at STS, and she will have a few products in the bin every week.
All good blogiversary has to have Freebies, right? WEDNESDAY was chosen to host a special freebie from the CT members in her blog.
Don't you worry, we didn't forget our great friends at Facebook, THURSDAY is the day to be RAKed over there. CT member Cori and Adriana will be giving away $3.00 coupons every week, make sure you get noticed there!
On FRIDAYS she will be releasing a few new products, with a great price!
So, with all said I hope to see you around participating and getting all sorts of prizes.
Let's get this party started!!!

To start our party Adriana and her CT girls have a great collection of 5x7 Brag Book Pages. The kit we used for the BB Pages was my newest kit called Happy Easter. I know you have ton of pictures from Easter that need to be scrapped, so if you need more pages just go to my store to buy the kit and make your own pages according to your needs. It's STS Anniversary too, so take advantage and grab this kit for less.
Image is linked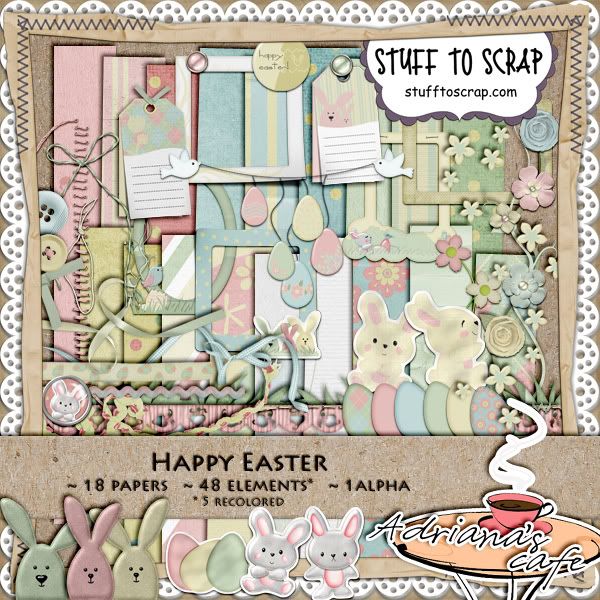 And here is your Happy Easter BBPage. Enjoy!
Link is expired.








And don't forget to visit her blog everyday this month. Tomorrow she will have a challenge and a freebie for you!